India's Neighborhood Security Challenges : from Pakistan to China
India's Security Challenges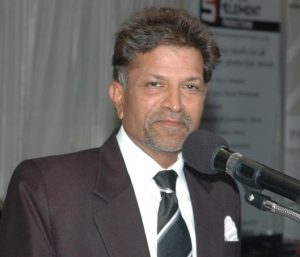 Day: Sunday 15th Oct 2017
Event Report:
Silicon Valley, CA: On Sunday, October 15, 2017, the Foundation for India and Indian Diaspora Studies (FIIDS-USA), a think tank for policy analysis, awareness and advocacy for India and Indian diaspora related issues, hosted a talk and discussion with Ambassador (former) Virendra Gupta on "India's Security Challenges".
Ambassador Gupta, who has been director general of Institute of Defense and Security Analysis, New Delhi based India's largest think tank on security studies, covered a wide range of security challenges mainly related to Pakistan, and China. During his engaging and informative talk, Ambassador Gupta stressed that Pakistan's internal dynamics will continue to compel the Pakistan Military and politicians to portray the India bogey. Pakistan will continue to use nuclear threat as a deterrent, but it will cause more damage with sponsoring on-going acts of terrorism. Despite repeated attempts to establish peace, India should prepare itself to tackle the state sponsored terrorism. Ambassador Gupta demanded a multifold increase in investments in intelligence to counter the terrorism.
Ambassador Gupta used the recent Docklam standoff to articulate the current security challenges posed by China. He emphasized that today's India is far different than 1962's India both militarily and politically, especially with new government under the leadership of Prime minister Narendra Modi. Based on his discussions, with serving  as well as recently retired military and civil personnel, he shared his observation that India is ready to tackle China's military threat. However, he noted that 1962 had a great impact on India's population and media who were projecting unwarranted defeatist views during the Doklam conflict. He mentioned that PM Narendra Modi and National Security Advisor handled the Doklam situation very well. The defeatist folks often cite the role of bilateral trade for a softer China policy. He dismantled this trade argument by saying the trade volume is not significant to the Chinese total export, and it is asymmetrically unbalanced against India's favor where, by India's industry, is getting adversely impacted. This trade will further cause India a security challenges if border escalations happen.
Ambassador Gupta, who is also the president of Antar Rashtriya Sahayog Parishad (ARSP), a platform for Indian Diaspora, advised to take a much more sympathetic and understanding view with the sensitivity about their issues while dealing with Nepal and Bangladesh, who shares long borders with India.
The talk was followed with a very engaging discussion with the attendees, which consisted of mainly activists, policy researchers, community leaders, and elected officials. Fremont City council member, Raj Salwan, also attended the talk and emphasized on a need of cooperation and alignment of India with US, Israel, and Japan.
Introduction of Speakers:
Ambassador Virendra Gupta was Deputy Director at the Institute for Defence Studies and Analyses, New Delhi from 2006-07,  also worked as Director General ICCR. Virendra Gupta served as a career diplomat in Indian Foreign Service and has served abroad in Indian Missions in Nepal., Nigeria, Israel and Egypt, in various capacities. He has also served in Indian Mission to the United Nations, where he served as Rapporteur of the United Nations Special Committee against Apartheid. He has also been Deputy Secretary (UN) and Director (Disarmament) at the Ministry of External Affairs in New Delhi. He has been India's High Commissioner to Tanzania, Trinidad & Tobago and South Africa. After completing his tenure with IDSA he was appointed Additional Secretary, Investment and Technology Promotion and Energy Security in the Ministry of External Affairs.
He also co- authored a book titled- "Pakistan Occupied Kashmir: The Untold Story" and "India's Neighborhood Security Challenges".