President Trump's Realistic Shift To Afghanistan Policy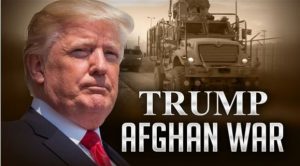 Personal Blog Post of Khanderao Kand:
On Monday 21st Aug, President Trump outlined his vision for Afghanistan war shifting the US policy from Nation building to eradicating terrorism and ending the Afghanistan war. He acknowledged that he share American people's frustration about the foreign policy  as it "spent too much time, energy, money, and most importantly lives, trying to rebuild countries in our own image, instead of pursuing our security interests above all other considerations."
President Trump announced the end of specifying a arbitrary "pull-out" date or limiting the number of foots on the ground. He said, "Conditions on the ground — not arbitrary timetables — will guide our strategy from now on." This contradicted with President Obama who pulled the US forces hastily from Iraq in 2011 ahead of 2012 presidential elections, allegedly due to a domestic compulsion.  The hasty departure had created a vacuum that gave an opportunity for ISIS to emerge.
Another shift in his policy was ending the ambivalence about Pakistan's role in the war. He specifically said, "We can no longer be silent about Pakistan's safe havens for terrorist organizations, the Taliban, and other groups that pose a threat to the region and beyond."  He further added, "We have been paying Pakistan billions and billions of dollars at the same time they are housing the very terrorists that we are fighting."   On Thursday, Pakistani Prime Minister Shahid Khaqan Abbasi tried to dismiss the comments by terming the policy an attempt "to scapegoat Pakistan".  During their recent in person meeting in Delhi,  Both Prime Minister Modi and President Ghani had expressed a concern "at (Pakistan's) continued use of terrorism and violence in the region for achieving political objectives". PM Modi had time to time educated the world leaders about Pakistan's role in state sponsored terrorism and had asked the world not to differentiate good vs bad terrorism, the rational that Pakistan had been using to justify its involvement in terrorism.
India has been actively involved in the development of Afghanistan spending over 3 billion dollars since 2001. India has already completed infrastructure projects including Afghanistan's new secure parliamentary building, Friendship Dam in Herat, 2500+ miles of roads including Zeranj Delaram Road, as well as renovation of the historic Storay Palace.  India has been always keen to get involved not only in the development project but in a broader Afghanistan policy of USA . However, due to ambivalent US policy in the past, US was interested India to focus more on "East" than get involved in "West".  President Trump not only acknowledge India's role in the development, he also emphasized a need to increase the level of involvement. As  PM Modi already announced $1 billion additional aid to further infrastructural development last September 2016, this appeal from President Trump could be a continuation to India's policy to support the Afghanistan.
No wonder both a direct reference of Pakistan's role in terrorism and opening a door for India in the US's Afghanistan Policy hit hard on Pakistan stirring a lot of comments from their experts in various media.
To summarize, President Trump specified the goal of US policy as "From now on, victory will have a clear definition:  attacking our enemies, obliterating ISIS, crushing al Qaeda, preventing the Taliban from taking over Afghanistan, and stopping mass terror attacks against America before they emerge. "
Afghanistan's Ambassador to US, Mr. Hamdullah Mohib immediately welcomed the policy shift, specifically appreciated expanded authority to the US forces without micromanagement and breaking silence over Pakistan. Afghanistan's ex-National Security Advisor, Amrullah Saleh,  "welcome"d the policy and highlighted six distinct observations ,  including  acceptance of centrality of Afghan National Defense and Security Forces (ANDSF), separation & alignment of Afghanistan and US forces role, more specifically, US not to indulge into fabric of Afghan society in pretext.
With this clear mandate, we expect the defense Secretary Mr Mattis now can exercise the authority he had received in June to build additional 3900 troops in Afghanistan. No wonder top general John Nicholson praised the policy shift and  "vowed  to "annihilate" Afghanistan's branch of the Islamic State in Iraq and Syria and "crush the remnants" of al Qaeda."
Afghanistan region is not only one of the most difficult geological terrain but also most complicated terrain of international interests where Russia had been a past occupant of Afghanistan, Pakistan is a actively meddling complicated neighbor, India has a long term and strategic interest and China too got close to this via its China Pakistan Economic Corridor (CPEC) which goes through Pakistan occupied part of Indian State Kashmir.
No wonder there  are quite a few experts not so sure about the effectivity of the policy, Roger Cohen terming this as "Trumps illusion" while NYU's Barnett Rubin called it as "a set of incoherent slogans", however, we consider this policy as a practical and pragmatic change in the no-so-working current status quo policy on the background of increasing terrorist attacks and evolving international complications . This policy shift also demonstrates that President Trump can change his personal political views, he had once termed "Afghanistan is a complete waste" and "Lets get out" (Afghanistan).
However, the success of the policy depends on a ongoing support to the execution of the policy to eradicate terrorism from Afghanistan so that democracy can be stabilized without a danger from Taliban , ISIS and other Jihadi as well as "state sponsored" terrorism.
— Khanderao Kand, Director, Foundation for India and Indian Diaspora Studies (USA)