FIIDS Mini-Conference on Indo US Relations and Indian Diaspora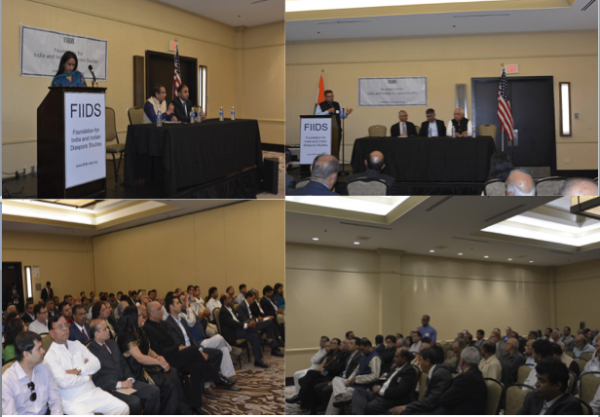 Over hundred community leaders and experts attended, a seminar on Indo-US Relations and Indian Diaspora held by the Foundation of India and Indian Diaspora Studies (FIIDS) on June 25th, 2017 at Tysons Corner, VA. "This seminar was organized on the occasion of PM Modi's first in person meeting with Trump", said Prof Radheshyam Dwivedi, a FIIDS Director. He also emphasized that the importance of meeting as it is going to shape up future of Indo US Relationship. He also mentioned that FIIDS is working on to create awareness about contribution and issues of Indian diaspora in the USA.
The seminar addressed two issues, the possible expectations for Indo-US Relations under the Trump Presidency given Prime Minister Modi's approach to diplomacy and foreign policy, which emphasizes strong regional relations while building global partnerships based on economic exchanges brainstorming strategies to weave Indian American issues into the broader American socio-cultural and political narrative to address and resolve professional and social issues specific to the community.
The two panel sessions, one titled, "Indo-American Relations Under Trump Administration and Modi Doctrine" and another titled, "Indo American (Professional and Social Interests) Issues and Policy Matters", were hosted. The first session was led by a panel of two experts, Mr. Sadanand Dhume, foreign and defense policy scholar at American Enterprise Institute (AEI), columnist at the Wall Street Journal, the Washington Post and author for Foreign Policy and, Dr. Vijay Chauthaiwale, Foreign Affairs In-Charge, Bharatiya Janata Party (BJP) at New Delhi, author of "Modi Doctrine: New Paradigms in India's Foreign Policy".
The latter was led by Mr. Amit Shah, Venture Capitalist, Artiman Ventures, Silicon Valley, Dr. Shashi Shah, American Association of Physicians of Indian Origin (AAPIO) and Prakash Bhalerao, Serial entrepreneur and advisor of Global Indian Technology Professionals Association (GITPRO).